Fireworks Displays
What ever the occasion, we can provide you with unique spectacular fireworks displays. Guy Fawkes, New Years Eve, Concerts, Sports, Corporate, Festivals, Product Launches, Promotions, Christmas, Mid Winter, Multi Cultural Events and Private Entertainment. We will design and choreograph a spectacular display to your event and location. We manufacture & stock a huge range of pyrotechnic products from which we are able to create magical pyrotechnic sequences to entertain everyone.
A typical display will consist of a range of low level fireworks to 50 – 60 meters high using fireworks such as multi-shots, roman candles, star mines, fountains, wheels, comets, etc. Aerial star shells from 75mm (3") to 125mm (5") in size can be accommodated into many fireworks display areas. These star shells explode 100 to 150 meters high and from 75 to 125 meters in diameter. With the wide range of pyrotechnic effects available we can choreograph multi level fireworks displays to suit all events.
With larger areas available we can utilize larger and larger star shells, 150mm (6"), 200mm (8"), 250mm (10") and even 300mm (12"). A 6" star shell will burst 150 meters in diameter, our premium quality 12" will burst 300 meters in diameter. Quality pyrotechnics along with our quality display design provide precise control over our artistic creations.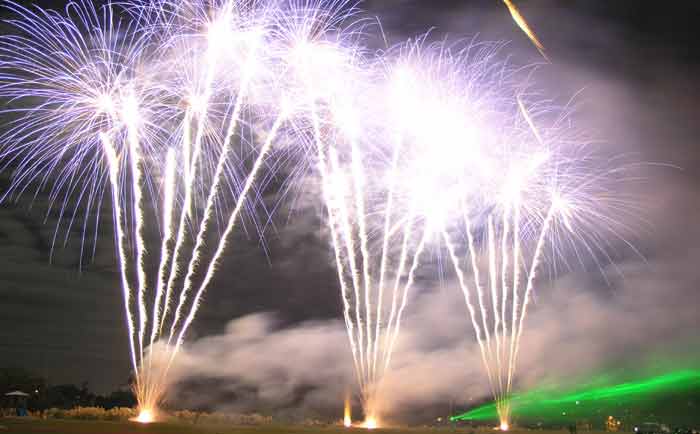 Waitakere Guy Fawkes
| | | |
| --- | --- | --- |
| | | |
| Christmas Show | | Guy Fawkes, Hamilton |
| | | |
| --- | --- | --- |
| | | |
| Lakeside, Rotorua | | Mount Maunganui Christmas |

Lakeside, Rotorua